Aún no ha pasado un año desde que SAP liberó S/4HANA 1511 y el pasado día 31 de octubre, SAP anunció públicamente el lanzamiento de la nueva versión de la familia S4 on premise:
S/4HANA 1610.
Desde un punto de vista meramente arquitectónico su enfoque es el mismo, aunque se han incorporado nuevas funcionalidades y se irán incorporando en futuras versiones, todo ello con el propósito de que cualquier proceso empresarial pueda beneficiarse de HANA.
Entonces, ¿Qué novedades aporta S/4HANA 1610?
Quizás la primera novedad que salta a la vista cuando vemos funcionando SAP S/4HANA 1610 en el nuevo SAP FIORI 2.0. SAP Fiori 2.0 pretende aportar una mejor experiencia al usuario.
(Más adelante, me gustaría ahondar un poco más en la nueva versión de SAP FIORI.)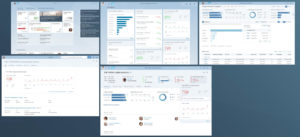 Dejando a un lado lo meramente visual, centrémonos en algunas de las novedades por áreas.
SAP S/4HANA Finance.
Integrated Business Planning: New universal planning journal; Central Profit Center Reporting.
Central Finance: Central Payment and Reconciliation functions.
Real-Time Consolidation: Real-time access to transactional and master data.
Extended Warehouse Management embedded in SAP S/4HANA
Provide EWM in SAP S/4HANA Core to provide state of the art warehousing capabilities
Simplified integration to SAP S/4HANA processes
Focus on Business Role: Warehouse Clerk and Warehouse Operative
Embedded Software in Product Development
Manage embedded software in the engineering product structure
Maintain compatibility information between software and other components of a product
Check product structure for compatibility of embedded software
SAP Portfolio and Project Management for SAP S/4HANA
Simplified Portfolio and Project Management Add-On for SAP S/4HANA
Overview monitor project progress
Upcoming activities for project team members
Integrated Quality Management
Improve the Segment of One process with Quality management Integration
Support for core QM processes withnew roles with SAP Fiori user experience (UX) for Quality technicians, quality engineers, quality planners, quality managers, quality auditors, calibration technicians
Simplified inspection process in SAP S/4HANA integrated Extended Warehouse Management
Ya para finalizar y volviendo a SAP Fiori 2.0, SAP ha presentado también: SAP CoPilot.
Un asistente virtual que pretende que nuestro camino por S/4HANA 1610 sea más fácil e intuitivo.